Nitrox
Nitrox is one of PADI's most popular Specialty Courses. Diving with Enriched Air (Nitrox) allows you to safely extend your no decompression limits, which means more time under water and shorter surface intervals.
The minimum age for the Enriched Air Course is 12 years old and you must be a certified Open Water diver. It takes 1-2 days, depends whether after the knowledge and practical applications you want to experience what it is like to dive on Enriched Air.
The course is based on theory, although we do encourage you to try it out!
Night
You will find that the environment in the night is quite different than during the day, you will see the same creatures, but doing different things. And of course you will see some new creatures that comes out after the sun goes down. You will learn about night diving equipment, evaluate dive conditions at night, using dive lights, night navigation techniques and how to interact responsibly with the aquatic life during the night dive. This course takes 3 dives and you need to be at least 12 year sold.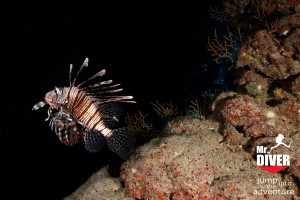 Deep
Deep diving opens the door to many new exciting dive sites. It will take 2 days to complete in which you will make 4 dives, and you must be certified as a PADI Advanced Open Water Diver or a PADI Adventure Diver, and be at least 15 years old. Successfully completing this course will allow you to dive till 40 meters, which is the maximum depth allowed in recreational diving.
Sidemount
Having scuba tanks on your back isn't a requirement for exploring the underwater world. Many scuba divers have discovered the joy of mounting cylinders on their sides. Sidemount diving gives you flexibility and streamlining options. Plus, you don't have to walk with heavy cylinders on your back – just enter the water, clip them on and go. Sound interesting?
If you're a PADI Open Water Diver who is at least 15 years old, you can enroll in a PADI Sidemount Diver course.
PADI Specialties – Taste the Fun and Adventure
For more info about the specialites